The Gehringer Corporation is a full-service roofing contractor serving the Lehigh Valley since 1984.
The Gehringer Corporation has the capabilities to address a wide range of roofing problems from leak repairs and preventive maintenance to re-roofing and new construction. We work with a variety of systems from single-ply systems to standing seam metal roofing.
The Gehringer Corporation installs single-ply systems, modified systems, standing seam metal systems, shingles, tile, slate, and various waterproofing systems. The Gehringer Corporation is an approved applicator for Carlisle, Firestone, Versico, GAF, and Manville roofing systems to name a few.
New Construction
Whatever you are building, we can work with you. Working with your architect, we will come up with a plan that fits your schedule. Our experience on construction sites assures productivity and safety so that you can focus on what really matters.
Roof Replacement
Is it time for you to replace your roof? At Gehringer Roofing we have replaced over # of roofs. You can count on us for a budget fitting solution and a roof that will serve for years. We range from steep slope to no slope, so put your roof into our hands.
Damages & Repair
Leaking roof or damage from weathering? We have you covered. Our employees have the experience to tackle all types of repairs. Don't let you roof get in the way of your production, call us to set up your repair.
Our company is dedicated to serving eastern Pennsylvania and western New Jersey, and we are ready to provide the solution your project requires.
Figuring out a roof system that best fits your plans is a difficult task, but not if you leave it in our hands. At The Gehringer Corporation we specialize in finding and applying a roof that will fit your time and budget. Our ability to apply multiple different systems on all different kinds of roofs assures your business protection that will serve for years to come. Through our certifications in application of all of the well-known manufacturers, we guarantee we can find a roof for you regardless of your business and building needs.
Single-ply roofing has become the norm for low pitch and no slope roofs. Typically applied with adhesive, these rubber roofs add excellent protection while eliminating the safety hazards of hot asphalt. Single-ply roofs come in materials such as TPO, PVC, and EPDM, all of which have a number of different thicknesses to protect your business. Call us to talk about your options.
Energy and cost efficient

Resistant to weathering, puncturing, and tearing

Manufacturer warranties up to 30 years
Standing seam metal roofing systems are top performers in durability and weathertight protection. The name, "standing seam", means that the seam is raised, therefore, the seam is above water which gives this system an advantage in protecting your business.
Tough and durable

With proper care, your roof will last 30-50 years

Industrial look, with a modern touch
Unmatched by other materials, slate is known its aesthetic look and longevity. Practically maintenance free, slate is a good investment as it is non-combustible, resistant to mold and fungus, and does not change shape in temperature fluctuations. If you are interested in a roof that will protect your business and add a touch of aesthetic appeal, slate may be for you.
Lasts a lifetime

Natural and attractive design

Non-combustible
Here at The Gehringer Corporation, we have over 35 years of experience with shingle application. Ranging in colors, shingles are a good addition to any business looking to add a touch of flair to their exterior or just keep it to the basics. You can count on us to get the job done right so call us to get started.
Affordable

Work well on steep-sloped structures

Versatile and low maintenance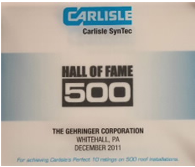 We have received over 715 'Perfect 10' inspections on roofing installations; recognizing our workmanship, consistency, and push for excellence.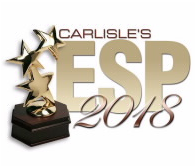 The award is given for Excellence in Single-Ply and is based off of outstanding application and expertise.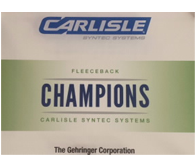 This award is an acknowledgement for being committed to properly installing their most durable and robust Fleeceback products.
Would you like to join our team?
As a family-owned business, we believe there is potential in every one of our employees. We have created a workplace in which employees can succeed and be rewarded through hard work, determination, and accountability. Find out about your opportunities to start a career at The Gehringer Corporation.
Service
Providing superior customer service for initial contact through project completion.
Quality
Providing the best in industry product.
Safety
Prioritizing safety in not only our workplace, but yours too.
Trust
Earning customer trust though our words and actions.
The Gehringer Corporation is a full-service roofing contractor serving the Lehigh Valley since 1984.